Welcome to CPSCR
The history of Cantonment Public School & College can be traced thirty three years back in 1977 when the foundation stone was laid by Brig M.A Latif, then the Commander of Northern Zone of Bangladesh in Rangpur Cantonment initially for the education of the children of Cantonment officers and local elite people.
The main purpose behind the establishment of this institution was to meet the challenges of the future, building up confident and successful students by providing the education on latest knowledge, information, communication skills and a vision with a blend of Bangladeshi cultural heritage.
Opening :The institution started functioning in 1978 from Nursery to class VI.
School : Later on, it extended up to class X in 1980 and the students first appeared in the S.S.C examination of1982.
College : With a couple of years, the number of students increased and separate branch for college was opened in 1981 and the students first appeared in the H.S.C examination of 1983.
Degree(Pass): Gradually in 1995, Degree (pass) Course also started under National University of Bangladesh.
By the grace of the Almighty God, all the branches are progressing day by day in a full swing. The schools, college and Degree course have successfully been affiliated with the Board of Intermediate and Secondary Education, Dinajpur and National University respectively.
Maj Gen Shakil Ahmed, SPP, BGBM, nswc, afwc, psc
Chief Patron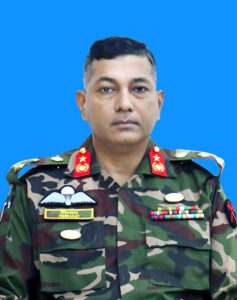 Brigadier General Nishadul Islam Khan, psc
Chairman
Col Monzurul Hassan Khan, BGBM
Principal
» Now Online : 1
» Today Total : 5
» Yesterday Total : 283
» Weekly Total : 288
» Monthly Total : 3846
» Yearly Total : 60688
» Total Visitors: 116943