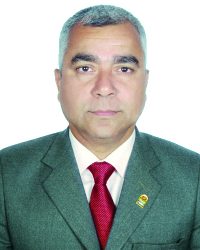 SANJOY PROSAD SANYAL
 Senior Physical Teacher
"Games and Sports is the greatest among all actions and reactions in human's body and mind" says famous writer Promoth Chowdhury. Man desires incessant and pure enjoyment while taking part in games and sports. When a man pants being entangled into a circular wonder less insipid life and being engulfed by tiredness and with fatigue, he expects to plunge into a grand relief having being drenched with various sporting events. He gets back his revitalized enthusiasm. Indeed sports revive our mind, keep our body and mind fit and lengthens our longevity.
Once man was not so much preoccupied with their works only. There was no chasing for works only. Due to unimaginable scientific and technological enrichment, man becomes the busiest. It virtually seems that they have no time for breathing. The very source of human  delight of life seems to be dried up and people are willingly or unwillingly getting inert like a barren desert. Hence having being sensitized the utility and importance of sports, we have to enrich ourselves and our tender learners continuing physical exercise drills and sports.
Enjoying pure and untarnished enchantment, restricted entertainment and the easiest oath of maintaining health is sports which play a pivotal importance and significance in our practical and national life. Furthermore, we should entice all our students to sports and sportsmanship in approaching to acquire the human qualities like discipline, solidarity, co-operation, sympathy punctuality. obedience, patience and so forth.
There is no alternative to build up a powerful nation through sports and sportsmanship in order to survive in this globalized dire competitive world. Not only meritorious but also industrious people we require at present. Hence successful life cannot be perceived without physical ability.  Physical righteousness, physical exertion and hence sport and sportsmanship is a must. Hence a variety of Events are arranged in our Institution around the year. These are:
# Annual Sports
# Inter House Cricket
# Inter House Football
# Inter House Handball
# Inter House Badminton
# Inter House Chess