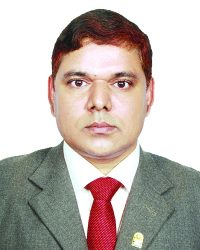 MD. SHAHIDUZZAMAN
Assistant Professor
Rover scouting is a service division of Scouting for young men and women in most countries. A group of Rovers, analogous to a Scout troop, is called a 'Crew'. It consists of 62 selected students from class nine to twelve.
Principles :
Revering provides enjoyable activities that combine personal development with meaningful service. A Rover Crew governs itself, but often has an older adult as a 'Crew Advisor' or 'Rover Scout Leader.' The founder of Rovering, Sir Robert Baden-Powell, called it a "brotherhood of open air and service."
Rovering is the jolly journey of young people from adolescence to successful and responsible adulthood in the principles of service to God, country and his fellowmen.
The objectives of Rovering are :
# Provide service to the Scout Movement.
# Provide service to the community.
# Develop as individuals by expanding one's range of skills.
# Enjoy fellowship, social, outdoor, and cultural activities.
Rovering provides an experience that leads to a life enriched in the following ways:
#  Character and Intelligence
#  Handicraft and Skill
#  Health and Strength
#  Service for Others
#  Citizenship